Mr. U.A.E. International 2023 – title and crown winner Manoj Hingorani is a popular model, actor, emcee, and social media influencer who recently won Mr. Popular 2023.
Here are a few excerpts from his exclusive interview:
Describe about yourself:
Manoj Hingorani – An Ex-Banker who turns his dreams and passion into reality. 
Been a Banker for almost 19 years, never even thought that this dream of his beloved brother – Bhushan Hingorani would be a possible one to turn into reality. 
Yes, Dreams do come True!
Manoj Hingorani was doing absolutely well in his life until the moments where his brother Bhushan Hingorani passed away due to an unfortunate car accident at an early age of 18. This really turned his family life like a 360-degree rollercoaster. Tough truth of reality that once someone goes away at an age which isn't normal at all, leaves so many dreams and aspirations incomplete. 
Bhushan Hingorani also had a big dream to be a Model, Actor and Social Media Influencer. He was getting prepared for it big time. But unfortunately, God loved him more than us and opened his doors to heavens. 
Manoj Hingorani decided that he cant leave his parents shattered and that's why did a lot of changes in his life. Calling them from Mumbai to Dubai for good and changing the environment for their better health prospective was the first important decision. Fulfilling all their wishes and ensuring mental satisfaction was the next on mind always. Despite the dreams and aspirations which were left incomplete, Manoj Hingorani didn't leave any stones unturned to keep them away from sadness. 
At the end of the day, when his dreams were always spoken about, I decided to take this critical step in my life to change my career from Banking to Acting to fulfill his dreams. Sounded really like a change as there is no connection between both.
Overweight and obesity was the first and biggest challenge which I faced when I even started thinking about this dream. 110 Kgs of which 25 kgs of stubborn fat over years, who the hell will want me to be in their commercials as people like to see only fit and good-looking faces and body. I took this as a challenge. Worked hard on myself and transformed from 110 kgs to 85 kgs. A transformation which came with lots of health issues in the start like hypertension, body pains, injured knees and lower back and that's why a transformation like this could never be an easy journey as much it could be in early ages. But Hingorani's, never like to lose as you should know.
Acting as a profession had its own requirements, merely watching others act doesn't make you an Actor. To learn acting as well you need to get into training, mentoring and practicing on yourself to get the best out of yourself. I did all of this and then entered the world of my dreams. Of course, I had given myself a timeline to all of these activities but it really took some while because of injuries during my workouts. But its never too late to fall in love again. This time, I was in love with myself. 
I started my journey in January 2020 where I got signed first time for Dubai Tourism Ads with not 1 but 9 different amusement Parks in Dubai as a Main Actor. The treatment which I got during this first commercial was so soothing, a butler full time during the shoot to serve food and ride me from location to location with umbrella, truly feeling like a King!
From thereon the journey started and Commercials on Commercials with top Brands, Government and Semi Government, Private and Corporate Clients. Agencies casting me had me on their top priority Indian Male Actors as I could do much better in my skin. As they always say, when you act you need to get into the skin of the Role play you are into. 
Achievements of Manoj Hingorani
Won the Crown & Title of Mr. UAE International 2023 in an International Pageant Show held in Dubai, UAE
Won the Title of Mr. Popular 2023 in an International Pageant Show held in Dubai, UAE
80+ Top Brand Commercials (alongside some famous cricket personalities like Virat Kohli, Harbhajan Singh, DJ Bravo and Kieron Pollard and music director – Mr. Ramji Gulathi)
Appeared on a News TV Channel Talk Show as an Indian Ambassador in the UAE
Featured Cast Appearance in a Bollywood Movie – Vikram Vedha (alongside famous actor Hrithik Roshan and Govind Pandey)
Only Male Judge in the Jury for an International Women Empowerment Contest
Invited as Guest of Honor at Multiple Events
2 Voice Overs for Commercials
Hosted Corporate Events, Game Shows and 2 Wedding Events
6 Fashion Shows
I feel happy that I could achieve my brothers dreams and turn them into reality to give essence to his incomplete tenor of life. I was not trying to raise myself by doing something like this but trust me this happiness of fulfilling others dream gives you the sense of fulfillment and completely makes you happy. Unlike some failures which we all have to go through in life, I lost some really good friends which I always thought were good for me but wasn't as good as I thought. I started trusting on what the superpower there has written in my destiny and started walking the path of positivity and courage.
When did you consider yourself as a Success?
Success is as big as your life span. I want to be as successful as I can. I want to be more successful than I was yesterday and even more for tomorrow. Success to be is a thirst which can never get over. I believe that everything I do should be for a motive that drives and influences people to shower their love and wishes to me. This is what the real meaning of success is to me. I have grown up from scratch in my field of Banking or Acting and what I have learnt in life is growing never stops, you get better day by day and this adds value to your life and to others lives too.
What advise will you give to someone starting out?
I would suggest that everyone should live their dreams to the fullest. Life is short, if we don't live it today you will leave it tomorrow. So manage your life in such a way that you bring in that balance between your work life, family life and definitely some time for your passion during the day. It may sound difficult for some of us who feel finding time for yourselves is difficult due to so many responsibilities but trust me its not impossible to find out an hour to your dreams.
My goal in life is "LOVE WHAT YOU DO, DO WHAT YOU LOVE"
What keeps you awake at night?
I am quite an active person. I don't get sleep until my day is accomplished well. I truly feel that if I have spent my day wisely I can my plan tomorrow well. So at nights I usually evaluate my unfinished work and plan to finish it at ease on the next beautiful day.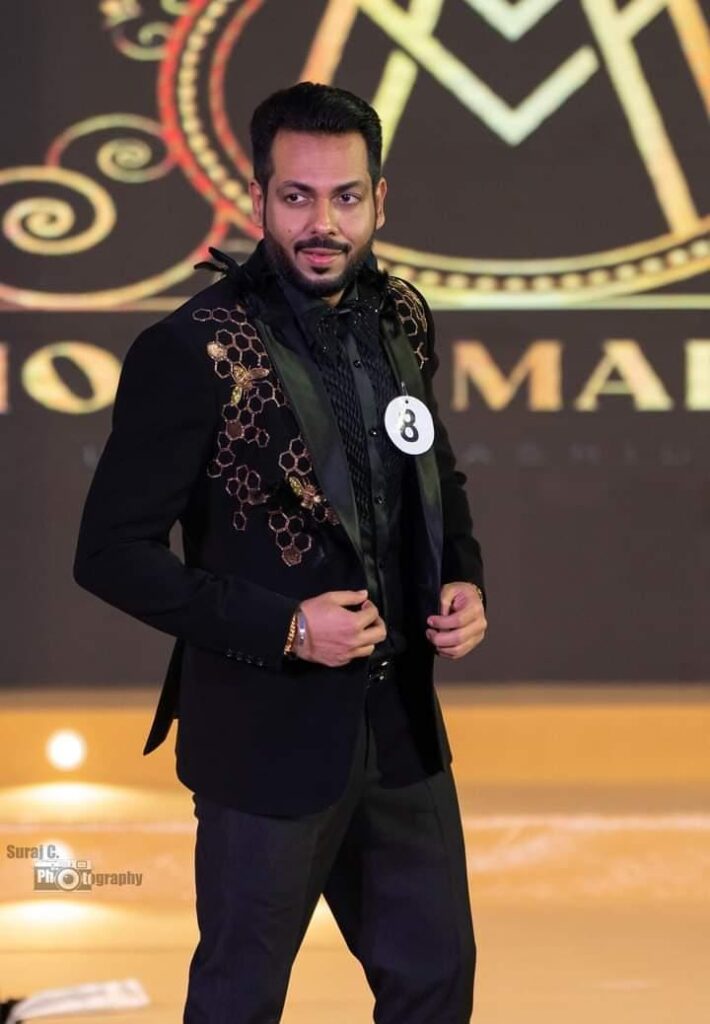 What personality trait should every leader have? 
Leadership is a beautiful word everyone needs to be called as. The importance and quality of a true leader depends on how he or she influences their own people. Every leader should lead by their own qualities, values and true passion to work whether in corporate life or in person. A true leader should always motivate their people. 
How do you feel on winning the crown of Mr. UAE International 2023?
Its truly a dream come true, as much as I feel happy winning the crown more importantly it's the smile and happiness which I see on my parent's face which gives me the boost to do even more in life. Mr. UAE International truly comes with a lot of responsibilities and trust, which I truly owe to this Title. 
How do you feel on winning the title of Mr. Popular 2023?
This title truly gives me the feeling of leadership. I feel blessed to be in a position where I have won so many hearts and most importantly people have accepted me and do love me for who I am. As much as the title means about Popularity, it gives me immense pleasure of fame and respect earned by my work and deeds. 
One Last Message to your Viewers?
Looking forward for many more in coming times! Keep Showering your love!
 Stay Healthy, Stay Happy and Stay Safe!
Continue reading about the latest updates on The Update India and follow us on Google News, Facebook, and Instagram!