As we go deep into the dynamic and strong contemporary Indian poetry in 2023, it's imperative to spotlight the literary geniuses whose words have left an impactful mark. In this digital age, we present to you the Best 3 Indian poets of 2023, each wielding words as their weapon of choice. Tushar Kiran Moodgal, Usha Kiran Moodgal, and Dr. Sujoyita Pal emerge as veritable wordsmiths, carving their names into the annals of Indian literary excellence. Their verses, accolades, and influences are the focus of our exploration, and we invite you to embark on this literary journey.
Best 3 Indian Poets Of 2023 are
Tushar Kiran Moodgal
Usha Kiran Moodgal
Dr. Sujoyita Pal 
TUSHAR KIRAN MOODGAL | Best 3 Indian Poets Of 2023
Award-winning poet and writer Tushar Kiran Moodgal hails from Shahdara, East Delhi. His literary prowess is characterized by a unique writing style that artfully melds various influences, seamlessly blending elements of romanticism, gothic themes, and profound philosophical reflections with a refreshingly candid and unvarnished approach to his craft. Moodgal acknowledges his father, Ashok Moodgal, as a significant influence, alongside literary luminaries such as William Wordsworth, John Keats, Edgar Albert Guest, and Edgar Allan Poe.
While Moodgal's journey as a wordsmith began during his formative teenage years, his foray into the world of published literature is relatively recent. Over time, his poetry has undergone a remarkable transformation. His early work was marked by themes of angst and a nihilistic perspective, delving deep into subjects like heartache, anxiety, and depression. In contrast, his more recent poetic creations delve into the realm of philosophy, reflecting his profound embrace of the teachings found in the Geeta and his steadfast advocacy of Stoic philosophy.
The crowning jewel in Moodgal's literary achievements is his debut poetry book, "Lamentations," released through Evincepub Publications, which boasts a collection of award-winning poems. Additionally, he has lent his poetic prowess to over 25 poetry anthologies, thereby showcasing his versatility and range within the art form.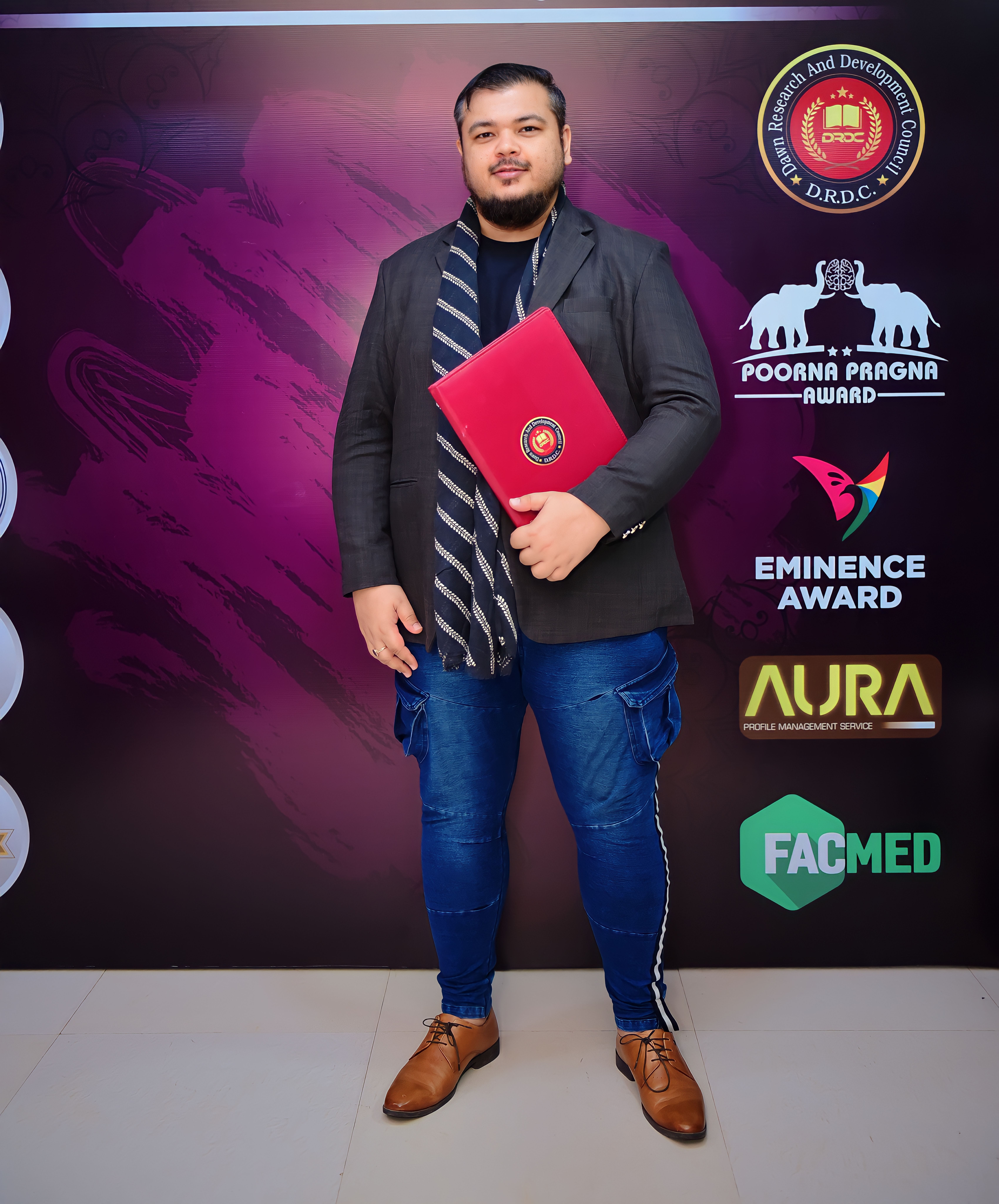 Moodgal's contributions to contemporary literature have earned him a slew of prestigious awards and accolades, particularly in recognition of his philosophical poetry. His poem "Rhapsody Of Twilight" has secured multiple world records, and he has been prominently featured in esteemed publications such as Inkzoid Book of Records and the Glorious Book of Records. Notably, he received the esteemed "Bharat Vibhushan" award, the "Maharishi Valmiki Bhartiya Gaurav Samman 2023," and the highly coveted "Tagore Ratna Samman 2023." A recipient of various other awards, including "The Best Poet" and "Poet of the Year," Moodgal's poetry has graced the pages of numerous newspapers and digital media platforms. He was also recognized as one of the "Outstanding Poets" for his contributions to the "Mysterious Fantasy" anthology by Instant Publications.
Beyond his passion for poetry, Tushar Kiran Moodgal possesses a profound interest in philosophy, history, and the intricate interplay between political behavior in societies and its profound impact on culture. To further his knowledge and pursuits, he pursued a master's degree in Political Science and International Relations, in addition to studying the Japanese language at St. Stephen's College, Delhi University and has been the recipient of the International Ikigai Award for his contribution towards Japanese studies.
USHA KIRAN MOODGAL | Best 3 Indian Poets Of 2023
Usha Kiran Moodgal is a renowned Hindi scholor, poetess, researcher, and dancer. She has earned recognition both nationally and internationally. Usha currently serves as the International Ambassador at Dawn Research and Development Council.
Her poetry compilation, "Kavya Tulika," has garnered widespread acclaim, and she has contributed to various collaborative anthologies. After completing her undergraduate studies, she pursued post-graduate degrees in Hindi and History. In 1987, she embarked on her marital journey with Ashok Moodgal.
Moodgal's life has been enriched by her contributions to literature and dance. She has received the "Bharat Shree National Award" and the "Honorary Gold Medal Award by DRDC Global" for her unwavering commitment to literature. Notably, her book "Kavya Tulika" received the "Sahitya Sthambh Puraskar 2023" and the "Sahika India International Award" for "Best Poetry Book of the Year."
Usha Kiran has achieved multiple world records with her poem "शक्ति" ("Shakti," meaning power) and has been recognized by the Inkzoid and Glorious book of records. Her numerous accolades include the "Maharshi Valmiki Bharatiya Gaurav Samman 2023," "Tagore Ratna Samman," "Nazrul Sahitya Samman Laureate Award," and the "Ishwar Chand Vidya Sagar Iconic Achievers Award." Her poetry, including "निर्णय" and "ख़ामोशी," published in collaborative editions, continues to receive acclaim. Her international honors encompass the "Asian Excellence Award 2023," Jane Austen Platinum Book Award, and the "MBR Global Excellence Award."
Moodgal shares her literary creations on Instagram, under the handle @ushakirankavyanjali. Her works are featured in newspapers, digital media platforms, and even on magazine covers, including Lidue and the Eagle Eye.
DR. SUJOYITA PAL | Best 3 Indian Poets Of 2023
The name of the author is Dr. Sujoyita Pal. She lives in Kolkata at baranagar. She has completed graduation in English from calcutta university and after that she has completed masters degree in English from Rabindra bharati university and then she has completed B ed in English from wbuttepa university. She is an internationally certified writer. She has got many awards in this writing field. Her name is featuring on google, if anyone do search in the google by her name then anyone will get the details about her. Her name is featuring on 45 plus Google sites, she has got doctorate award, it's honoris causa which award  is govt and niti aayog certified. Recently her 13 write ups in the 3 anthologies has been published and had launched at the world book fair in new delhi at pragati maidan. Sujoyita Pal is an English teacher, spoken English trainer as well as corporate grooming trainer. She is a certified soft skill trainer. She has written 50 plus anthologies. 
Her achievements
1. India fame award 2021 from the quidditch ink publications
2. Atal swarna samman 2022 a national level award from iconic brand network
3. Swami vivekananda rastriya swarna samman 2022
4. Bharat bhusan ratna samman 2023
5. Best writer award 2023 from drop of change publication house
6. Poet of the year 2023 from drop of change publication
7. Naari samman sheroes award 2023 from priya's wisdom publication
8. Iconic indian personality winner from priya's wisdom publication house
9. Rajendra prasad excellence award  a national level award from priya's wisdom publication house
10. Global achievers award 2021
11. Karwa chauth award 2021 from R k publication
12. Have got Honorary Doctorate Award ( it's honoris causa)  on 15.5.2023
13. Awarded Charles Dickens Award ( it's Google featured) on 12.9.2023
In the ever-evolving tapestry of Indian poetry, Tushar Kiran Moodgal, Usha Kiran Moodgal, and Dr. Sujoyita Pal stand as beacons of poetic brilliance in 2023. These poets not only capture hearts but also command the digital space, where their works inspire and resonate with a global audience. As we celebrate their achievements this year, we eagerly anticipate the poetic odysseys that lie ahead. Their stories, verses, and accolades reflect the enduring power of words and the timeless allure of Indian poetry. Join us in celebrating these literary luminaries and their contributions to the vibrant world of contemporary Indian literature.
Continue reading about the latest updates on The Update India and follow us on Google News, Facebook, and Instagram!